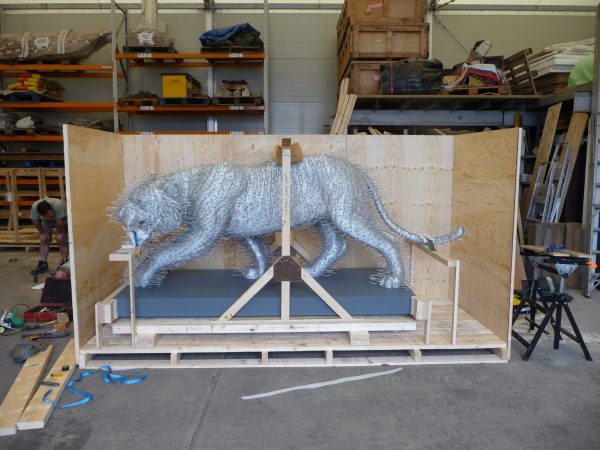 Packing
We have extensive experience in packing and case making, both for export or storage.
Using environmentally friendly materials, we create highly protective packing which conforms to ISPM-15 standards to ensure international compliance.  For internal protection we use a range of high grade conservation materials such as Plastazote and Tyvek.
Whatever the size or complexity of your packing requirement, our packing experts will carefully assess the nature and risk of the move and provide bespoke solutions to ensure safe delivery of your precious cargo.
Artful Logistics offers a full packing service for artworks and delicate equipment of all sizes. Whether it is a small item which requires careful packing in a cardboard box with shock protection materials, or a large sculpture which requires crating for an International "Out of Gauge" (OOG) shipment, Artful Logistics have the facilities to fulfil your needs.
With 125 years of experience in the Transport Industry, our experience has given us a wealth of knowledge of the requirements to protect your cherished items from damage during movements.
We can manufacture single use crates, multi use crates for exhibition items, or even long term storage crates with air circulation vents. We manufacture crates to meet any international shipping standards such as ISPM15, and can supply packing material certificates to meet the strict Bio-security requirements of countries such as Australia and New Zealand.
For large, or awkward shaped objects we can protect these for global shipment with Tufcoat poly shrink wrapping. Although the majority of packing is carried out at our fully equipped premises at Canterbury, we are able carry out most operations on site if required.
We employ skilled, experienced technicians who can be trusted to handle and pack your items with care, and to efficiently protect and pack them on time, and on budget. We can also provide comprehensive insurance options over and above normal trading terms and conditions offering even greater peace of mind. Please see our Terms and Conditions.
Attention to detail and meticulous planning are vital to ensure safe and appropriate packing of artworks and other delicate or high value items. Some examples of items we have packed previously are shown above, please click on the images to enlarge them.