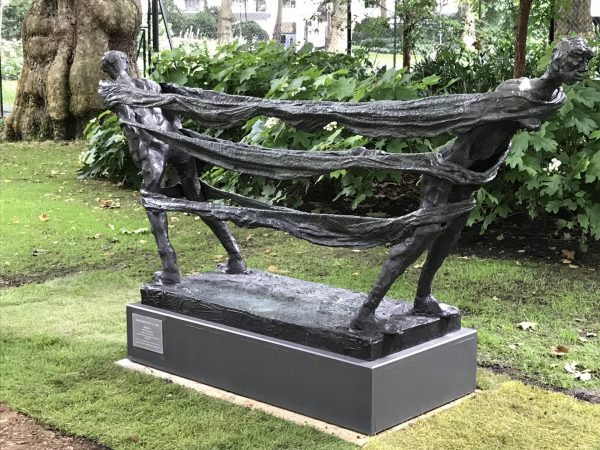 Plinths and Bases
We make our own plinths and bases in-house. For internal applications plinths are more usually made in marine grade ply which has excellent durability and which, when painted, provides for a cost-effective solution. An important consideration is the movement of mounted sculptures in a museum or gallery environment. For this purpose our bases can be made with a removable concealed access panel permitting movement with a pallet truck.
Most wooden bases and plinths are finished in high quality oil or water based paints. Such finishes are more commonly requested to be muted so that they do not conflict with the sculpture. Occasionally however much more specialised finishes are called for. The examples shown give an idea of the marble and stone effects that can be achieved.
Sculpture that is to be put on public display must also satisfy the need for stability so the neither the sculpture, nor the public, are put at risk during the exhibition. Many base and plinths are above ground but we also design and manufacture sub-ground steel and concrete bases upon which artwork may be mounted.
Examples show the fabrication of poured concrete bases whereby the concrete is shaped by the design and construction of formwork which is then removed. These bases can be quite monumental in size as demonstrated by those we used for displaying 'Tony Cragg' pieces along Exhibition Road in South Kensington.
Here, working to certified engineering calculations, formwork was made in situ so that bases of up to 4 metric tonne mass could be poured which accommodated both the slope of the hill and the camber of the road.
At the end of the exhibition period the sculptures are demounted and the concrete bases removed by means of the concealed lifting points which had been incorporated at an earlier stage. This method of installation meant that very costly road reinstatement was entirely avoided – much to the satisfaction and relief of both the artist and the local authority.
Stability can also be provided by mounting pieces onto heavy steel or natural stone bases. We again specialise in the making of these in-house. Some of the examples show how the metal base-plates can be built up in layers – centralised by profile cut holes around a central post which in turn supported the actual bronze sculpture.
Our metal bases can be made of a variety of steels – cortex, mild, stainless – and the finish can be plain , painted, hot waxed or textured by various processes. Other metals are also available – E.G. aluminium, bronze plate.
We buy in the natural stone cut to size from various suppliers all over the country – it depends very much as to your choice of stone. We then are able to use our diamond drilling equipment to loose or resin-fix mounting pins and similar ready for display.
Please have a look at the photographs to see the range of materials and finishes that we produce – and if your precise requirements are not illustrated then please contact us to discuss your needs.